12.45 on 03/05/2015
April 23, 2015
The latest of the twists and turns.
(This is the latest of the many updates by the Vanarama Conference regarding the Play Offs.)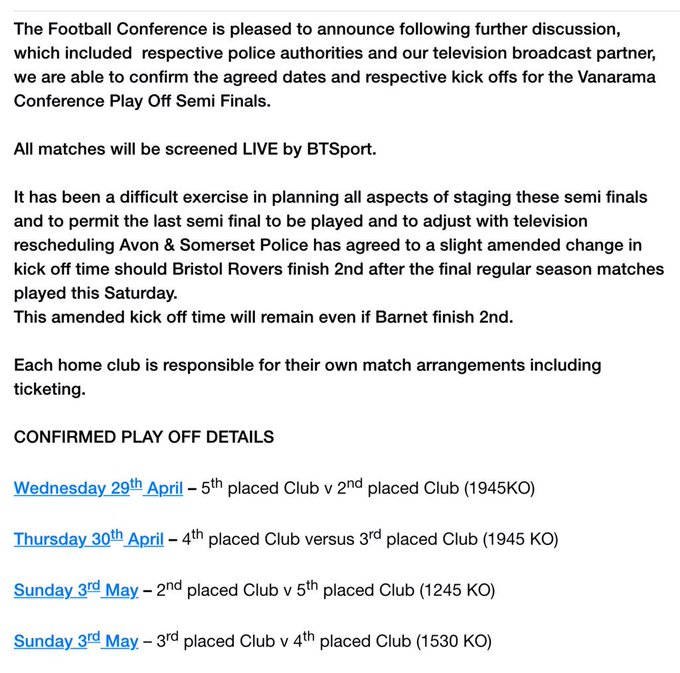 FOOTBALL CONFERENCE @conferencefooty  
BREAKING NEWS Play Offs
We just learn agreement has now been reached with clubs, police and TV broadcasters on final dates + kick off times. Once all parties have been informed, including those not directly involved with latest news a press release will be issued.
The Vanarama Conference regrets it is unable, due to circumstances outside of its control, to confirm the full play-off semi-final schedule at the moment.
Having prepared the schedule twelve months ago the competition has been asked in the past few days, by Avon & Somerset Police to take into account Bristol City's final fixture of the season and its planned open-top bus tour to celebrate success in the Sky Bet League One and the Johnstone's Paint Football League Trophy.
BT Sport also asked to reschedule one of the second leg ties to Bank Holiday Monday but since the game scheduled to be moved involves Grimsby Town FC, Humberside Police has raised concerns regarding this proposal as it will not have sufficient resources to cover all other events in the area, which include a Premier League fixture at Hull City and Beverley Races.
In the meantime, it is planned the first leg ties can proceed as follows:
Fifth-placed club versus Second-placed club on Wednesday, 29th April 2015 at 7.45pm.
Fourth-placed club versus Third-placed club on Thursday, 30th April 2015 at 7.45pm.
We hope the second leg tie between Second-placed club and Fifth-placed club will go ahead as scheduled on Sunday, 3rd May at 12.15pm, although the kick-off time may alter slightly.
We expect a solution to be concluded, and announced, within the next 24 hours in respect of the home tie for Grimsby Town.
Please bear with us as these matters were unexpected and we will continue with all clubs and others involved to search for a suitable solution.