Barrie Meyer R.I.P.
September 17, 2015
Barrie Meyer
Bristol Rovers supporters down the years will remember certain players, think of them with affection and remember them as among their favourites. There is a good chance that early memories remain strong and that childhood favourites come to the fore when reminiscing with family and friends.
I am very lucky. My childhood years coincided with a glorious period in the history of Bristol Rovers Football Club. Eastville, second tier League football at the top end, a great manager in Bert Tann and players who would mostly feature in the best Rovers side that ever wore the famous quarters and with pride, honour and distinction.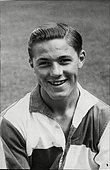 The FA Cup really meant something in those days. Bristol Rovers drawn at home against the Busby Babes in January 1956; Manchester United came and left heavily defeated. Geoff Bradford was a hero but let us remember a player who grew to form and effective partnership with the legend of legends. Barrie Meyer was a prolific goal scorer in his own right.; Bristol Rovers 4 Manchester United 0 and Meyer on the score sheet.
Meyer's record was exceptional. Sixty goals scored in 139 Football League appearances for the club. In season 1955-56 Meyer netted twenty goals in forty appearances; a goal every in two games; outstanding.   A talented cricketer too, keeping wicket for Gloucestershire and scoring over 5,300 runs for the County before retiring from the first class game.
This was not the end of the sporting career of Barrie Meyer. In 1973 he was appointed a first class cricket umpire and in 1978 a Test umpire. I remember Barrie as a Rovers goal scorer when still a child, a very fine Gloucestershire cricketer in my late teens and twenties and a well respected Test Umpire well into my adult life.
Without doubt a Bristol sporting favourite and a Bristol sporting legend.
Thank you Barrie John Meyer, God bless you and take you into His care.