Steve Speaks
March 23, 2016
Bristol Rovers are hoping to break ground on phase one of a new stadium project on land owned by the University of the West of England (UWE) by the autumn.
(This article is written by James McNamara in the Bristol Post on Wednesday 23rd March 2016.)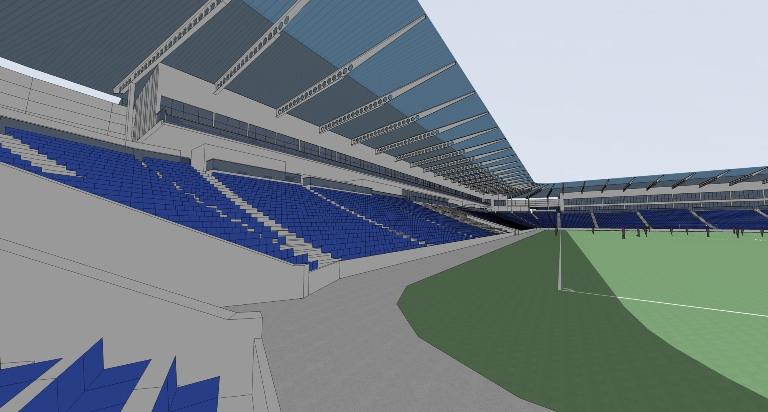 Recently-appointed chairman Steve Hamer and the team he has assembled to protect and co-ordinate the interests of the club as the £40-million project progresses have held several meetings with UWE representatives since the Al-Qadi family completed a takeover last month.
The club is hoping the project, which initially proposed the construction of a 21,700-all-seater facility, will be completed within two years and are currently aiming to start work on a car park that would eventually service the stadium by October.
Hamer said: "What we are doing at the moment is introducing ourselves and meeting with all of the key partners. All of those meetings have been extremely successful.
"That is ongoing and has been since shortly after we arrived. I very much get the feeling that what was going on previously was very much a lone wolf approach.
"What we are trying to do is introduce an approach where there is a greater degree of transparent and co-ordinated thinking between all parties.
"We have been alerted to one or two things that we weren't aware of previously, but we are working through all of those issues and we are getting on with it.
"We are very respectful of UWE, their position and the remarkable patience they have shown. Planning consent has another two years to run but the sooner we get the project off the ground the better.
"There is a requirement to start work on a car park on that site by October and that is our next target. UWE have 30,000 students and because they are building in other areas they are losing car parking space. That is the next definitive target and would really be the first smoke signal of real progress on the project."
Hamer and his team, which includes recently-appointed directors Michael Cunnah and Lee Atkins, have also been active in meeting with potential investment partners in order to help finance the project.
"Our mantra is that we are on a journey so come and join us now," Hamer said.
"Anyone who comes knocking on our door to ask about things like naming rights when the stadium is up and running in two years' time might have missed the boat.
"It is only right that we look more favourably on those parties who commit to coming on what will be a fantastic journey with us."
Hamer, meanwhile, says that the Al-Qadi's legal team are still examining the chances of success or otherwise for an appeal to the Supreme Court in what has been a long-running legal battle with Sainsbury's.
The club lost an appeal against an initial High Court decision that ruled in favour of the high street retailer and allowed them to extricate themselves from an agreement made to buy the Memorial Stadium site for £30million in 2011.
"The club has lost a lawsuit amounting to £1million and will also have to pick up the tab for Sainsbury's costs amounting to £500,000," said Hamer.
"When you are talking about these sums of money it would be unwise to charge on without taking stock. We have this 28-day period and all aspects of the case are being evaluated by our legal team. We await their advice on the chances of success or otherwise."
Hamer has also confirmed that a short-term loan that was accruing interest at 1.2 per cent per month has been settled with the lender.
The club, under the old regime led by Nick Higgs, obtained the £2million loan from a company called MSP Capital in December 2014 in order to continue their legal fight against Sainsbury's.
A sum of close to £3million has been repaid, and Hamer said: "That was all part of the acquisition.
"I'm sure it is a mighty relief to those who set up the loan and to those who had offered personal guarantees in order to obtain it."