Oskar, Tommy & Pat
April 10, 2016
Congratulations to Oskar Pycroft, Tommy Leggett and Pat Custard.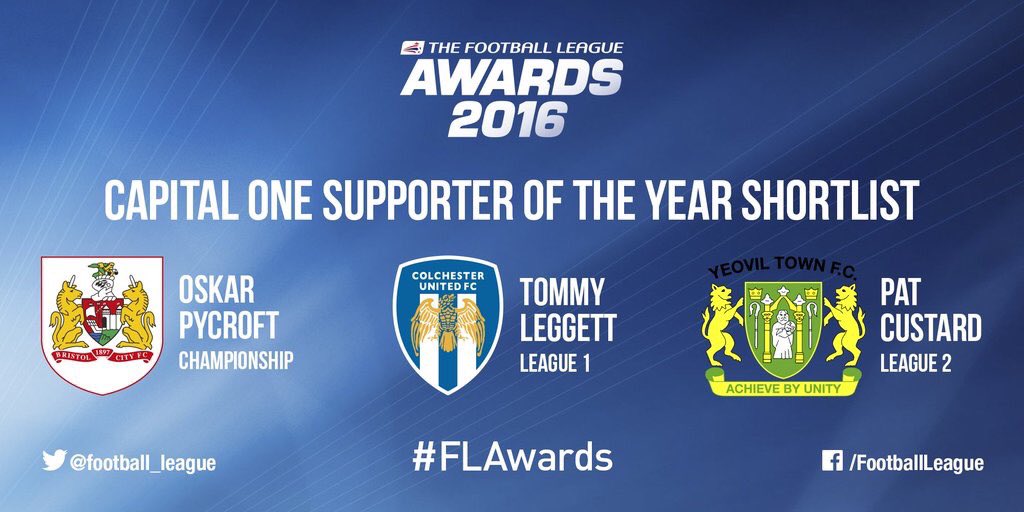 The Football League have announced this is the shortlist for the Capital One Supporter of the Year award.
The winner will be revealed at the Football League Awards 2016.
The shortlist is made up of one supporter from each division.
Each nominee has been declared the Capital One Supporter of the Year in their respective division.
The three fans on the shortlist are:
Oskar Pycroft (Bristol City) – Championship
Eight year-old Oskar never misses a Bristol City home match.
He has cerebral palsy but his dedication has ended with him being able to walk and lead out his team.
His battle has made him an inspiration to fellow fans and anyone fighting against a severe illness or disease.
He is a totemic figure at Ashton Gate, and his passion inspired fans of rivals Bristol Rovers to back his cause.
Tommy Leggett (Colchester United) – League One
Tommy is a Colchester United fan whose support for the club has helped him to make a difference.
His son Alfie was diagnosed with a rare condition which will leave him blind and most-likely deaf.
Tommy recently ran 40 miles to their Essex rivals, Southend's Roots Hall, arriving in time for the derby.
He raised over £3,500 for Alfie's treatment, uniting two sets of supporters who for are ardent rivals.
Pat Custard (Yeovil Town) – League Two
Pat is a supporters whose selflessness has made her a massive part of Yeovil Town Football Club.
Pat volunteers at the club to help improve matchdays for other supporters and people visiting Huish Park.
She arranges tickets for fans unable to get to the ticket office and helps paint the ground during pre-season.
Pat also follows Yeovil up and down the country and never misses a match.
Previous Supporter of the Year Winners
2015: Sarah Watts (Brighton & Hove Albion)
2014: Phil Beeton (Leeds United)
2013: Neil Le Milliere (Exeter City)
2012: Sue Pollard (Plymouth Argyle)
2011: Kevin Monks (Coventry City)
2010: Herbert Taylor (Southampton)
2009: Warner Duff (Ipswich Town)
2008: Paul Samrah (Brighton & Hove Albion)
2007: Stan McGowan (Bury)
2006: Jeff Hall (Chesterfield)