Unsung Hero
April 18, 2016
Stuart Sinclair is the Sky Bet Football League Unsung Hero of the Month for March.
(Many thanks to the sporting life for this account.)
In the past 18 months, he has become a frequent visitor to the renowned Bristol Children's Hospital, having been contacted directly by families.
"There's a girl called Connie, who was 14 when I first saw her," Sinclair explained. "Her mum is a steward at the club and she was in a pretty bad way in hospital. She had leukaemia. She's back at school now, but she goes back and forth to hospital and still has to fight it.
"It's inspiring when you see someone like that, how bad they were and how much better they are now. She's an amazing person, so for me to go up to the hospital for half an hour is hardly an effort. If I can help, I will.
"Bristol has got an amazing children's hospital. I've been there to see another lad called AJ, who isn't even four and yet he's had a kidney transplant. He's had to go into that hospital 22 times.
"What the staff at the hospital do is absolutely inspirational. All I do is run around and kick a football so for me to take half an hour out of my time to go and see someone is nothing. It's awesome that people see it as a kind gesture because I don't see why I wouldn't do it."
The acts of thoughtfulness don't stop there. A year ago, 30-year-old Rovers fan Ben Hiscox died when his head collided with a concrete clubhouse wall following a tackle while playing for local side Stoke Gifford United.
Rovers hosted a special game at the Memorial Ground which was attended by Hiscox's family. Ben's mum Gloria works in the Tesco's store in north Bristol where Sinclair does his weekly shopping, so when she informed him last month that they were holding a remembrance anniversary evening for her son at a local pub, Sinclair not only went along to pay his own respects but persuaded the Rovers club captain, defender Mark McChrystal to go along, too.
"I often chat to Gloria when I'm doing my shopping, so I just said: 'Give me a shout if you want me to pop in on the evening' because I didn't want to intrude. She said that would be great.
"I asked Mac if he wanted to pop in with me. It was pretty emotional, to be honest. Obviously I'd never met Ben and nor had Mac, but an event like that is unimaginable so just to go down there was hardly anything out of our day."
What makes Sinclair all the more remarkable, or perhaps explains his attitude, is that prior to joining Rovers, then in the Conference, in the summer of 2014, he had spent his career flitting around non-league football. He combined playing for the likes of Arlesey, Bedford Town and Salisbury City with building up a personal training business.
The interaction with the Rovers fans began almost by accident.
He added: "I'm not really into social media but I have an old Facebook page that my mum uses more than me. She plays the games on it and stuff.
"When I first came to Rovers, people sent invitations for me to be their friend. My mum was just accepting everyone. Then she'd tell me I had lots of messages so I would go on there, message people back and ask how they were doing. It just escalated from there.
"You just chat and then eventually people would say: 'I've got a daughter and it's her birthday. Would you come along?'
"Obviously you can't go to every event. You try not to prioritise but there are special ones that you try and make more of an effort for. Someone like Connie, who wasn't very well, that's more important than just someone's birthday party, but I still try and get back to people or send them a card.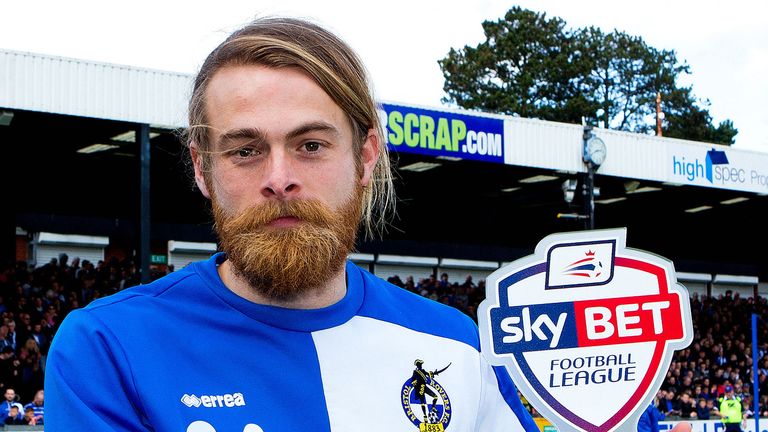 "I don't keep track of how many hours I spend replying to people because I don't see it as a job. It's more my mum who tells me I've got some messages so if I've got a bit of time, I'll try and text people – if I've got 10 minutes in the gym, for example.
"You get asked some random stuff, too. Like: 'Can I have your undies?' or 'Can you do something for my pet dog?' or 'Come and be a butler for us.' You have a laugh and then you move on quickly from those ones.
"What I don't understand is that sometimes you just say hello to someone and they are like "Wow", which is madness because I'm just a normal person.
"All I do is run around on a Saturday and I like doing it, so how can someone like me for that? It's madness really when you think about the logic of it.
"Maybe it's because I've had a normal job as a personal trainer and not been in professional football that I see it differently to other players.
"But a lot of players don't know anything other than being a footballer. It's no different to being in the army all your life. You don't know any different."
Sinclair's reputation among the Rovers faithful has led to an extraordinary number of man of the match awards coming his way from sponsors – around 15 in his 31 home games during his two seasons at the club. Or at least that's how he sees it.
"There's a running joke among the lads about the man of the match thing. I tell them it's because I'm the best player but that's definitely not the truth because we've got a great squad full of great players.
"I've got a lot of champagne that I try and give away. It's a running joke because in some of those games I definitely wasn't the best player.
"I don't know how I'll expect this award to them but it's a huge achievement. What I do on the pitch, I class as my job, so to be recognised for doing something outside of that is amazing and something that I'm very proud of."
Rovers manager Darrell Clarke, who was also Sinclair's boss at Salisbury and brought him to the club, has known of the midfielder's qualities as a person, not just as a player, for longer than most.
Clarke said: "Stuart's being harsh on himself to say that he gets man of the match because of what he does off the pitch because he's been outstanding on it since he's been at the football club. The fans love his endeavour, his work-rate, his desire, but they also love him for what he does off the pitch as well. It always goes a long way with the supporters.
"He appreciates the position he's in. He was at Luton as a youth team player and has had to work at a job with his personal fitness business and play part-time football. Footballers who have had to come out of the game to earn a living while they try and get back into the game, they are certainly hungrier and more dedicated. That is what has got Stuart so far.
"A lot of footballers are quite blinded when they have been professional footballers most of their career, whereas Stuart has been out there in real life. The supporters recognise how he is as a person, not just as he is on the pitch.
"He's not your typical stereotype footballer. He likes his fishing, he's very single-minded and very driven. He's one of the fittest professional footballers I've seen. He's so dedicated.
"Not only that, but he's a very approachable person who's always doing things for the club. He'll talk to anybody. He's one of the nicest lads I've met in football, so it's pleasing that he's been recognised with this award."