Dates Confirmed
May 3, 2016
The Provisional Play-Offs Fixtures Confirmed.
For the 2015/16 Sky Bet Football League Play-Offs.
*** PLEASE NOTE . ***
*** THESE DETAILS BELOW CONFLICT WITH THE FOOTBALL LEAGUE WEBSITE. ***
*** THE DETAILS ON THE FOOTBALL LEAGUE WEBSITE WILL BE AMENDED. ***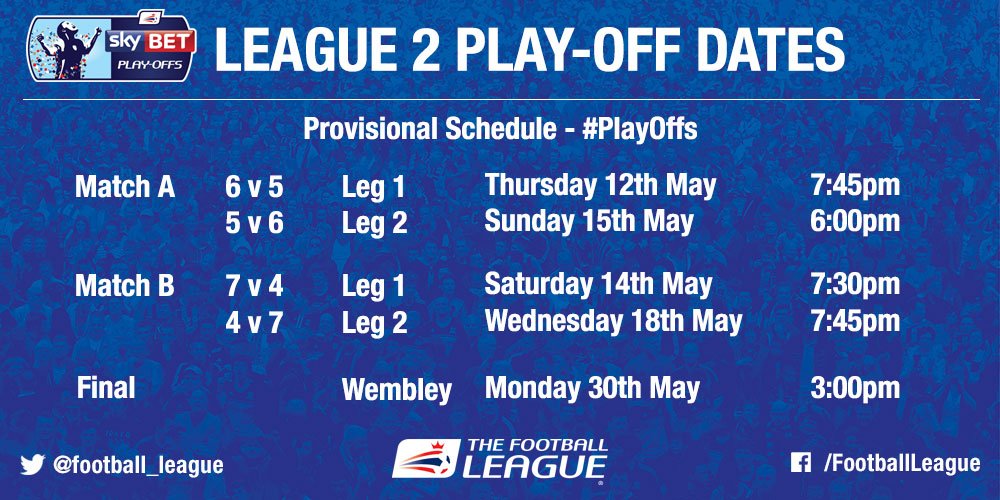 The LEAGUE TWO Play-Off Semi-Finals will take place between Thursday 12th and Wednesday 18th May 2016.
The LEAGUE TWO Final will be at Wembley on Monday the 30th of May 2016.
Sky Bet League 2 – Match A
This is the Plymouth Argyle versus Portsmouth two legged fixtures.
Leg 1: Thursday 12th May (7.45pm) 6th v 5th.
Leg 2: Sunday 15th May (6.00pm) 5th v 6th.
Sky Bet League 2 – Match B
This means ASFC, OUFC or BRFC, (4th) will play AFC Wimbledon, (7th).
Leg 1: Saturday 14th May (7.30pm) 7th v 4th.
Leg 2: Wednesday 18th May (7.45pm) 4th v 7th.
All Semi-Finals will be live on Sky Sports.
Sky Bet League 2 Play-Off Final
Monday 30th May (3.00pm)
To read the full regulations regarding the play-offs:- Click Here