Continuity And Stability
June 23, 2016
Who are the longest serving Bristol Rovers players?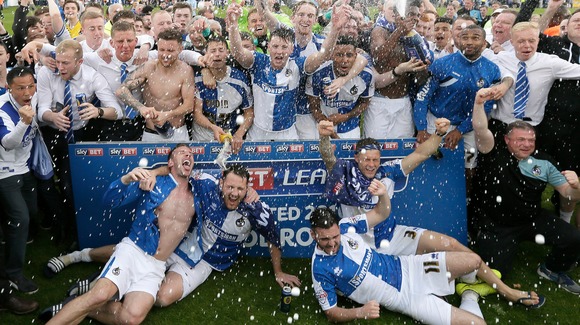 How has the playing staff changed over recent years?
The playing staff are listed in terms of their date of signing for Bristol Rovers as a professional.
It is not a record of their first team debut. (Chris Lines is included twice because of his two spells.)
It is broken down into a number of phases. Phase Four is to be continued.
After Independence Day, (04/07), we may see an extension or two on the Phase Four list.
The following have agreed a contract for the start of the 2016/17 season:-
PHASE ONE – PRE DARRELL CLARKE AS THE BRFC MANAGER
Chris Lines; – b. 30-11-85. (December 2004)
Ollie Clarke; – b. 29-06-92. (April 2010)
Ellis Harrison; – b.01-02-94. (January 2011)
Lee Brown; –b. 10-08-90. (June 2011)
Tom Lockyer; – b. 03-12-94. (July 2012)
Mark McChrystal; – b. 26-06-84. (January 2013)
Steve Mildenhall; – b. 13-05-78. (January 2013)
PHASE TWO – THE VISIT TO THE VANARAMA CONFERENCE IN 2014/15
Jake Gosling; – b. 11-08-93. (June 2014)
Lee Mansell; – b. 23-09-82. (June 2014)
Daniel Leadbitter; – b. 07-10-90. (July 2014)
Stuart Sinclair; – b. 09-11-87. (July 2014)
Will Puddy; – b. 04-09-87. (August 2014)
Jermaine Easter; – b.15-01-82. (January 2015)
Chris Lines; – b. 30-11-85. (March 2015)
PHASE THREE – BACK IN LEAGUE TWO IN 2015/16
James Clarke; – b. 17-11-89. (June 2015)
Jay Malpas; (SMC) – b. 23-05-97. (July 2015)
Cristian Montano; –  b. 11-12-91. (July 2015)
Alfie Kilgour; – b. 18-05-98. (July 2015)
Billy Bodin; – b. 24-03-92. (August 2015)
Rory Gaffney; – b. 23-10-89. (November 2015)
Liam Lawrence; – b. 14-12-81. (January 2016)
PHASE FOUR – PROMOTED TO LEAGUE ONE FOR THE 2016/17 SEASON
Peter Hartley; – b. 03-04-88. (June 2016)
Byron Moore; – b. 24-08-88. (June 2016)
A. N. Other; – b. **-**-**. (July 2016)
Yet A. N. Other; b. **-**-**.  (July 2016)
The following were offered a new contract for the 2016/17 season:-
Dominic Thomas; (NCT) – b. 23-11-95. (July 2013)
Jamie Lucas; (SMC) – b. 06-12-95. (August 2013)
Matty Taylor; – b. 30-03-90. (July 2014)
Danny Greenslade; (SMC) – b. 23-09-96. (July 2014)
Ryan Broom; (SMC) – b. 04-09-96. (July 2015)
Tyler Lyttle; (SMC) – b. 12-11-96. (July 2015)
 (If any information is incorrect please let us know:- HERE )