FSF Summit
July 11, 2016
The Football Supporters' Federation and Supporters Direct.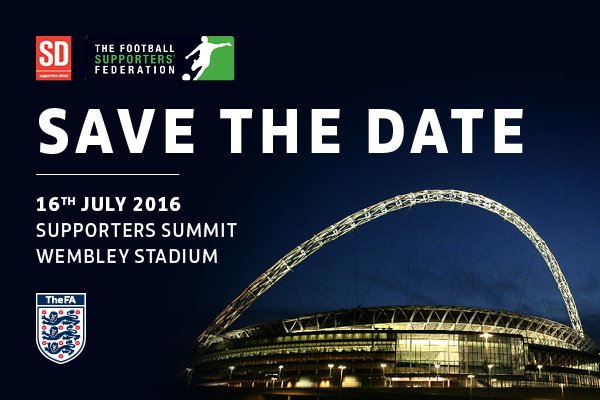 They are to host the joint annual Supporters Summit in London, at Wembley Stadium.
It will be held on 16th July 2016, in partnership with the FA.
The event brings fans together from across the UK, from clubs and supporter organisations.
The intention is to debate the issues at the heart of the game.
Incoming Football League chairman Ian Lenagan will address supporters at the Summit.
This is timely given the news of the FL's recent proposals (more: CLICK HERE.)
The full programme of events for the 2016 Summit are still being finalised.
Workshops will look at:
ticket pricing, diversity, safe standing and much more (details: CLICK HERE).
The FSF's AGM will be held on the following day, Sunday 17th July (see below for more info).
SUPPORTERS SUMMIT (SATURDAY 16TH JULY):
Start: 10.30am (Welcome & FL Chairman Ian Lenagan – more CLICK HERE)
Morning workshops: 11.45am (workshop details CLICK HERE)
Afternoon workshops: 2.15pm (workshop details CLICK HERE)
Finish: 5.00pm (cash bar open until 7pm)