ECFC 2 v 0 BRFC
July 17, 2016
Pre-Season Fixture FIVE – Exeter City FC 2 v 0 Bristol Rovers FC
Played at St. James Park, Exeter, (3.00pm KO), on Saturday 16th July 2016.
Official Attendance is 1,247, including 197 visiting supporters.
BRFC Starting Team: Will Puddy, Dan Leadbitter, Alfie Kilgour, Mark McChrystal, Jordan Evans; Billy Bodin, Chris Lines, Ollie Clarke, Sam Barratt; Ellis Harrison, and Luke James.
BRFC Substitutes: Rory Gaffney, Liam Lawrence, Danny Greenslade, and Cristian Montano came on at half-time for Mark McChrystal, Billy Bodin, Ellis Harrison and Sam Barratt. During the second half Jay Malpas and Ryan Broom come on for Ollie Clarke and Daniel Leadbitter, 
ECFC First Half Starting Team: Olejnik, Sweeney, Brown, Archibald-Henville, Moore-Taylor, Taylor, James, Harley, Holmes, Simpson, Watkins.
ECFC First Half Substitutes: Hamon, Down, Ampadu, Egan, Reid.
HALF TIME SCORE ECFC 2 v 0 BRFC
ECFC Second Half Starting Team: Hamon, McCready, Woodman, Grimes, Tillson, Grant, Reid, Riley-Lowe, Jay, Down, and Byrne.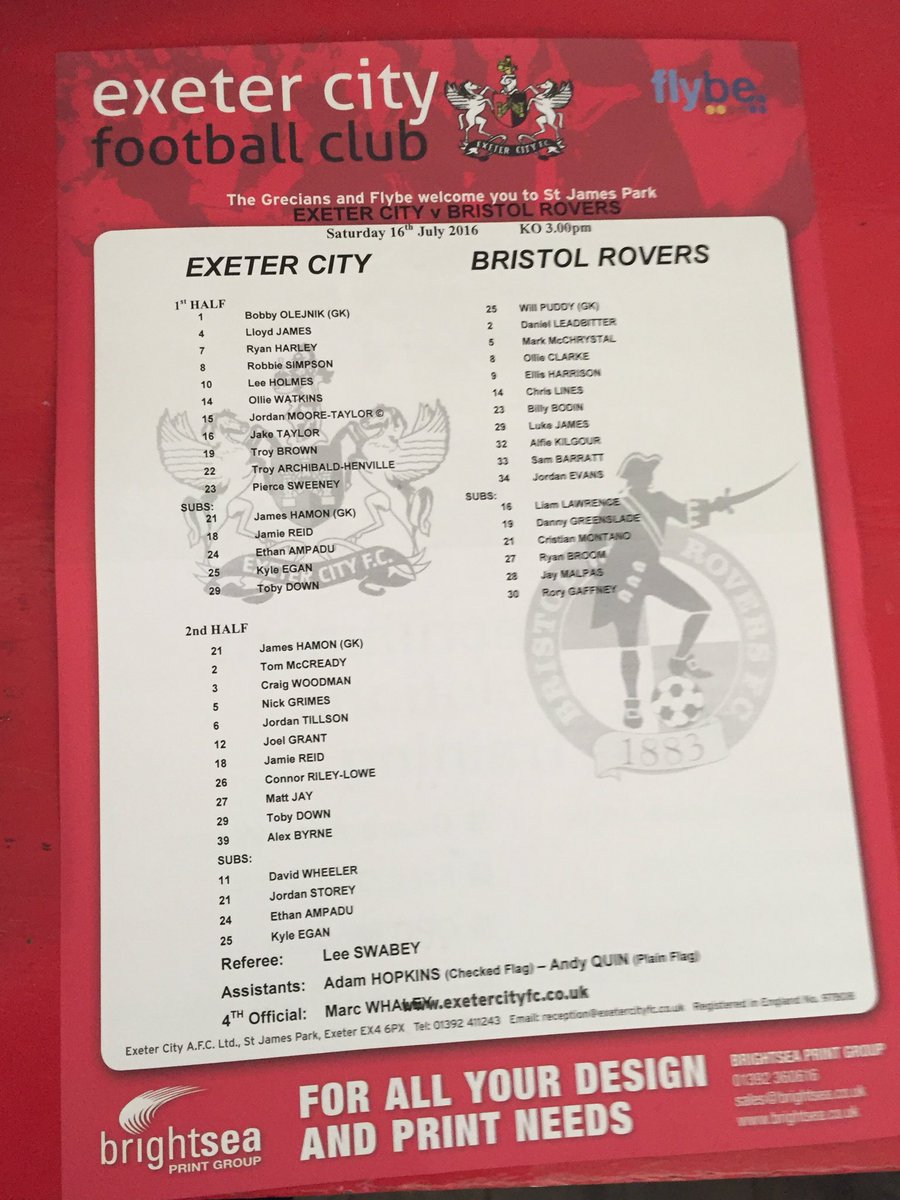 The best BRFC first half efforts were from Jordan Evans, (25 mins.) and Sam Barratt, (9 mins.)
The Exeter City goals came from Ryan Harley, (9 mins.) and Ollie Watkins, (37 mins.)
The best BRFC second half chances came from Rory Gaffney and Cristian Montano, (76 mins.) and Luke James in the 82nd minute.
FULL TIME SCORE ECFC 2 v 0 BRFC
To read a detailed MATCH REPORT: CLICK HERE