Customer Charters
September 6, 2016
ABANDONED MATCHES
. . . . . . . . .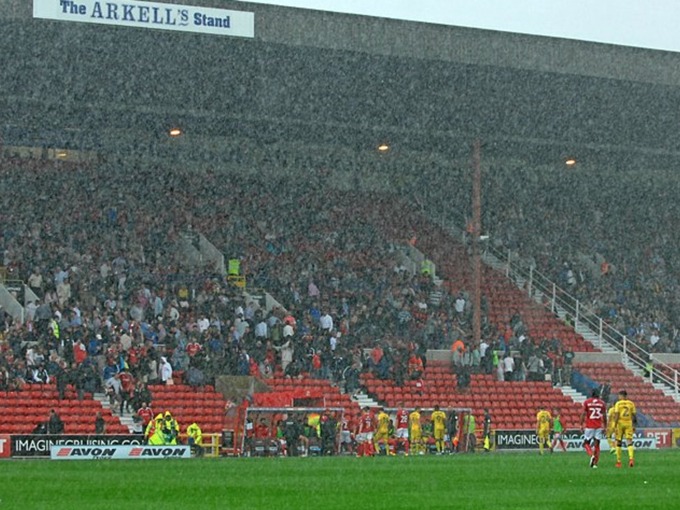 . . . . . . . . .
 The fixture between Swindon Town and Bristol Rovers.
After 59 minutes 43 seconds on Saturday 27th August 2016.
 You could well argue that the football side of the fixture ended towards the end of the first half.
Following the torrential downpour, there was nothing resembling genuine football evident.
Every football club has a Customer Charter which is supposed to cover such issues.
The stance taken by EFL League ONE clubs on abandoned matters is very varied.
There is a strong argument to suggest that this aspect of the Customer Charters should be stipulated. 
The EFL Regulations on Abandoned Matches simply state that: "Every Club must have a publicly stated policy regarding ticket refunds or other arrangements for abandoned Matches."
A common and agreed league-wide policy might be preferable.
What do the Customer Charter policies of League One sides on matches abandoned after half-time state?
The results are shown below.  
GROUP ONE – Reduced Price
Gillingham
GROUP TWO – Half-Price Tickets
Bolton Wanderers
Bristol Rovers
Bury
Coventry City
Millwall
MK Dons
Northampton Town
Walsall
GROUP THREE – Reduction at Club's Discretion
Bradford City
Charlton Athletic
Fleetwood Town
Peterborough United
Rochdale
Scunthorpe United
Oxford United
GROUP FOUR – No Reduction or Refund
Chesterfield
Oldham Athletic
Port Vale
Sheffield United
Shrewsbury Town
Southend United
Swindon Town
Despite the Customer Charter statements, a question well worth posing is:
"Has ANY other club in this list, other than SWINDON TOWN, ever attempted to charge FULL PRICE to supporters for readmission to a rearranged match?" 
Please contact us if you can provide an example of this policy being enforced by any club at any time.