There is no doubt that professional football in England is going through unprecedented times, with more than a few EFL clubs staring into the financial abyss as they struggle with little or no income. This week we have seen the owner of Swindon Town talk about placing his club into administration as he cannot any longer absorb the losses.
There is an excellent article on this subject on the BBC Sport website today. Rovers own Alex Rodman is featured and comes across very well:
Around 1,400 players across the EFL are out of contract at the end of June and there is an ever-growing possibility that fans will not be allowed to attend matches until next year – starving clubs of, what is for many, their main income source.
"I can't see clubs offering contracts in that period," said Alex Rodman, midfielder at League One side Bristol Rovers.
He told BBC Radio 5 Live: "A lot [of the 1,400 players] could be lost to the game, which would be a massive shame.
"It's a horrible situation for them to be in – to think that they need to go and possibly find another job that they maybe haven't known for the last six, eight or 10 years just to support their families – but it is unprecedented times and I'm sure there's many other people in the country who are in the same position."
Rodman's concerns are echoed by Dr Rob Wilson, sports finance expert at Sheffield Hallam University, who believes "a lot of players" will drop out of football.
"We will naturally see smaller squad sizes and more use of the loan system, particularly by lower league clubs," Wilson told BBC Sport.
He thinks that will "help redistribute playing talent" but foresees a "depression" in the transfer market.
"Even if clubs are able to pay big fees, the public perception will be so poor that they will try to avoid it," he added.
"That will naturally depress the total value of the transfer market, and clubs should use this to their advantage in player contract negotiations so anybody looking at contract renewals will probably look at lighter contracts."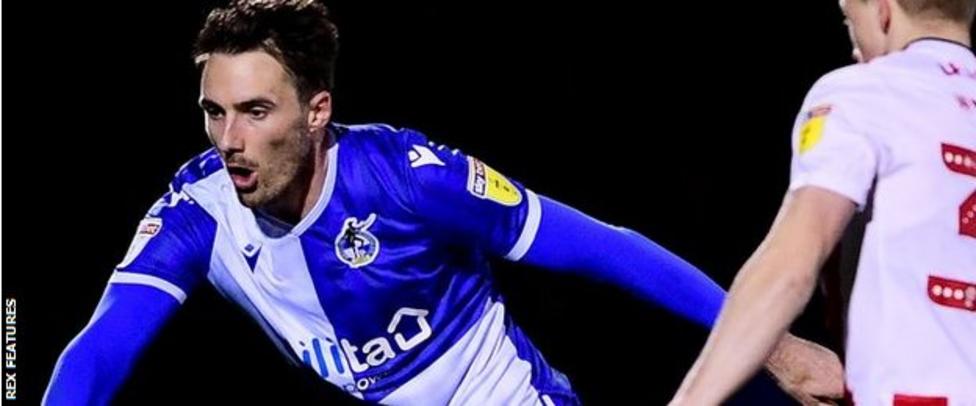 When many think of professional football in England, attention turns straight to the Premier League, where players earn an average of more than £3m a year.
This perhaps creates a feeling that footballers are immune to the financial implications of coronavirus. But Rodman – who is Rovers' representative of the Professional Footballers' Association trade union – paints a very different picture in the third and fourth tiers.
"A lot of the players at Bristol Rovers have mentioned to me you're potentially caught between a proverbial rock and a hard place, in a moral dilemma of do you go back because financially you need to support your family and pay your mortgage or do you stay at home because you need to protect your family's health and welfare?
"Players, especially at League One and League Two level, probably do rely on a paycheque every month – living paycheque to paycheque – and could not absorb missing one, two, three or four paycheques. I don't think that could happen."
To ss the whole article please see https://www.bbc.co.uk/sport/football/52680375