Trumpton Time
December 13, 2014
Do you miss the Trumpton programme from TV?  There must be some channel somewhere that covers the memorable episodes.
Pugh, Pugh, Barney McGrew, Cuthbert, Dibble and Grubb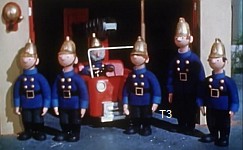 (A look back at the Twerton Times with the Bath Chronicle ahead of the Bath City FA Trophy Fixture.)
This weekend's FA Trophy tie will see Bristol Rovers entertain Bath City for the first time, a change of scenery for the near-neighbours' friendly rivalry.
The Pirates famously spent ten years in exile at Twerton Park, developing close links between the two clubs, with pre-season friendlies now an almost annual event and supporters sharing a soft spot for both sides.
The deal had positive outcomes for the two clubs, as Rovers were not only saved from the financial abyss, but rent revenues garnered by City helped them to earn promotion back into the Conference and make vast improvements to their home.
The move to Twerton Park was forced upon Rovers, who were unable to remain at their historic Eastville Stadium when financial issues were compounded by the landlords increasing the rent, leading to their spell in Bath.
Rovers' first game at Twerton Park was a League Cup first round tie against Reading won 2-1 by the visitors, but they would secure their first win in the city that weekend when they beat Bolton Wanderers 1-0 in the old Third Division.
The undoubted highlight of their decade-long stay was the 1989/90 season, when the club won the league title and reached the final of the Leyland DAF Cup at Wembley, where they would lose 2-1 to Tranmere.
The penultimate game of that campaign will live long in the memory of any Rovers fan, as they beat derby rivals Bristol City 3-0 to seal promotion in front of a raucous 9,000-strong crowd at Twerton Park.
The ground was also packed for the visit of Liverpool in an FA Cup fourth-round tie in 1992 that finished 1-1 thanks to Carl Saunders' 60th-minute equaliser. The Reds would go on to win the cup that season, although not before coming back from another Saunders goal to win the replay 2-1 at Anfield.
It was not all good news, though, as an arson attack by a group of Bristol City fans heavily damaged the main stand in 1990.
However, this led to renovations of the structure, one of a number of upgrades to Twerton Park that were the result of Rovers' stay.
Overall, £1million was obtained in grants to spend on the ground, which was brought up to Football League standards with the building of the Family Stand, and away facilities at the Bristol End.
The first game of the 1996/97 proved to be Rovers' last at Twerton Park, although they went out in style with a 1-0 win over Peterborough before finally returning home to the Memorial Stadium, where City and their fans will fittingly visit come Saturday.