Truth Is Stranger
February 19, 2016
Supporters might recall this Oil Cash for Gas article.
(It was published by Stan Szecowka in the Gulf weekly back in January 2015.)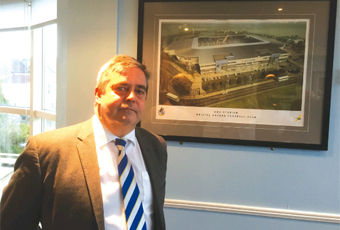 Footballing minnows Bristol Rovers, known throughout the soccer world as The Gas, are hoping to attract a soccer-mad Gulf consortium of investors to help it realise its dreams of playing in the English Premiership in a proposed £30 million-plus (BD17 million-plus) super stadium.
Club chairman Nick Higgs believes the club, currently flying high in the Vanarama Conference – the fifth tier of English football – offers a 'fabulous investment opportunity' and better than most available higher up the footballing hierarchy.
The businessman, who made his fortune in the construction industry, said: "It is a sleeping giant. There is an opportunity to come in at grass roots level for not a huge investment to start with and to be able to take this club to the highest level if they so wish.
"You don't have the problems of buying into a big Championship club or Premier League club with a huge debt burden, inheriting problems that have gone on before. We have a clean sheet now, the bones of an international standard stadium and the catchment and ability to bring in a lot of local support.
"We have full planning permission and are ready to go with a new 22,000 all-seater stadium.
"It can extend to 26,000 very cheaply and 35,000 if the club makes the higher echelons and needs it. And, with a population in wider Bristol of 1.2 million people it pays to have that ability to be able to extend because if we can bring success to this club that's the sort of crowds we could be getting."
The club has linked up with the University of the West of England (UWE Bristol) to develop a regional sports stadium designed to satisfy the standards of the governing bodies of football and rugby, as well as being a potential venue for concerts.
It is also set to be a 24-7 'cash positive' operation with a conference centre, banqueting hall, gymnasium and shops plus bars and community facilities to attract 20,000 students, locals and the many newcomers moving into the developing area employed by the expanding Ministry of Defence facility close-by.
UWE and Rovers have been working on the ground-breaking agreement to build a new football stadium for several years on land adjacent to the university's Frenchay Campus, as part of the UWE New Campus Masterplan.
The proposed UWE Stadium will be located on 9.3 hectares of the land purchased from computer firm Hewlett Packard back in October 2008, and consent to build it has been granted by South Gloucestershire Council.
Various planning objections and appeals to the club selling its current Memorial Stadium in north Bristol to Sainsbury's had stalled the project. They have finally been overcome and although contracts have been signed, retail analysts suggest that the supermarket giant's interest in store expansion has cooled in the wake of market share pressures from expanding cut-price operators.
'Legal niceties' are currently being hammered out between the parties.
Mr Higgs said: "It's taken longer than I wanted but I am confident it will go ahead. Where it was cash neutral, we may have a small deficit now because prices have gone up and we may have to raise some money.
"I think it's a good time for investors to come into the club."
Last year a consortium was put together with investors from Bahrain, Saudi Arabia and the UAE which seriously considered taking over troubled Championship side Leeds United before stepping back.
However, in 2012, Middle East-based private equity group GFH Capital finalised a deal for a protracted takeover of Leeds, before selling a 75 per cent stake to Italian businessman Massimo Cellino, last year. The Football League has now decided to ban him after it ruled he had failed its 'owners' and directors' test'.
Bristol Rovers looks like a less fraught proposition altogether. Mr Higgs says he would love to attract interest from Bahrain and the neighbouring Gulf States. "I think it would be fantastic for Bristol and the surrounding area to have some investors who have the level of funds we would need to kick on," he explained.
"We have invested our own money to get to where we are and it would be nice for someone to realise that now and take it to the next stage. As a fan it has never been my intention to be here forever as chairman, I just wanted to get the club on a level footing again and get the stadium in the process of being built and get the club on a stable footing to move forward.
"This is a great time now. It could be a modest investment to start with and it would be tailored to how far they wanted to take the club.
"It depends on the investor; the interest he has on taking the club to the highest level, whether he wants to take it as a stepping stone, kick-start the stadium whilst we are waiting for the rest of the things.
"Bristol is the fifth biggest city in the country and we've got to have top class football here at some stage and that is the main focus for having this new stadium. I think the interest it will create when it opens will be phenomenal.
"The last time we had any success in tournaments we took 40,000 fans to Wembley and 36,000 to the Millennium Stadium in Cardiff."
The potential is already clear to see as more than 8,000 fans turned up to watch the club, officially nicknamed The Pirates, draw with Torquay United on a bitterly cold and rainy New Year's Day.
Formed in 1883, the club was relegated from the Football League last season, but have high hopes of returning at the first time of asking. They only lost four of their 26 games played before the Christmas period and now sit in second spot.
Off the pitch, the club has continued to attract the highest crowds by a Vanarama Conference side. On many occasions the attendance levels have bettered almost all those in League Two and many of those in Football League One.
The UWE Stadium land will be leased long-term to the football club and was previously set aside for a business park.
"The facilities will bring huge benefits for our students, staff, and importantly, the communities that we serve across the Bristol and South Gloucestershire region," said UWE's Vice-Chancellor Steve West.
UWE has a history built on partnerships and collaborations dating back to 1595 when the Bristol Society of Merchant Venturers' Navigation School was founded. Over the years UWE has continued this tradition in order to grow and transform itself to meet the demands of modern day students and higher education teaching